Mombasa and Kwale residents woke up to a sting operation by a multi-agency team seeking to flush out terror suspects.
In the operation that took place on the night of Monday, August 23, the residents reported that the team, which included Anti-Terror Police Unit (ATPU), seized a number of explosives.
Witnesses said that the operation targeted homes of individual believed to be sympathisers of terror suspects.
In the exercise, two suspects were arrested while two others, who lived in a house in Lungalunga, escaped.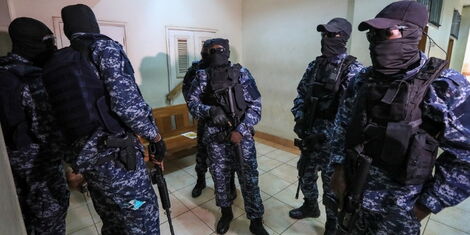 Kenya's Anti-Terror Police Unit (ATPU) officers
File
The raid was conducted to track and capture the two escapees, in what residents termed as a highly militarised operation.
The operation was also aimed at capturing persons believed to be funders or recruiters of the Somalia-based Al Shabaab militia group.
The operation was conducted in Mombasa's Old Town, Kuze and Mlango wa Papa areas, as well as in some parts of Kwale County.
During the raid, the agencies broke into houses suspected to habour terrorists sympathisers. 
Kwale County Commissioner, Joseph Kanyiri, said that the agencies were on high alert and that more raids will be carried out in the area.
"This emerging security matter is being dealt with using a multi-agency approach," he stated.
Two terror suspects were nabbed on Monday by ATPU officers and their National Intelligence Service (NIS) counterparts at the Likoni ferry crossing channel.
In a tactful operation that caught commuters unawares, they shot in the air while approaching the suspects' motor vehicle, a station wagon.
With guns aimed at the vehicle, the two men were fiercely ordered to step out and lie on the ground. The suspects were keen to adhere to the directive. They were immediately blindfolded and taken away.
A gunman in a balaclava
File